New Ancient Alien Picture has Been Found
October, 27 2014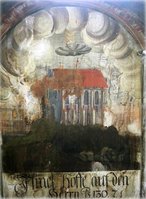 A new painting dating back to as early as the 15th century has been found in Biserica Manastirii (Church of the Dominican Monastery) in Sighisoara, Romania that depicts what looks to be a UFO.
The picture of the painting was sent in by two people visiting the church and thought that it may be interesting to people involved in UFO research.
There is a caption under the painting that reads "Israel, hoffe auf den HERRN," which translates to "Israel, put your hope in the Lord." from German to English. Unfortunately, this doesn't give us much to go on as far as what the artist was trying to portray.
In the painting you can see a clear large UFO hovering over a building. There appears to be fire and smoke in the painting coming from the building and the UFO. Judging from the inscription in the painting there is a good chance that people may have thought that the aliens were Gods or they were praying to their Gods to save them from the unknown object in the sky.
It's interesting how many instances of saucer shaped UFOs turn up in paintings and descriptions of events throughout time. You can see here many more paintings of UFOs in history. This is just the tip of the evidence that is out there. We are, just like this painting, finding new evidence all the time and we will continue to add it as it comes in.
What do you think about the photo?