Soccer trivia, interesting story, given Barca's current standing in the world game. Keep'emPeeled
An unmarked grave to hero status: the Irishman who saved Barcelona
Fergus Dowd, an IT systems analyst for Dublin, won the backing of Luís Figo, Roy Keane and a film director to help rescue from obscurity Patrick O'Connell and his exploits at Barcelona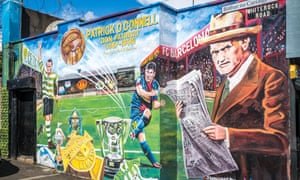 Like absolutely no other middle-aged IT systems analysts from Dublin, Fergus Dowd went to a Blyth Spartans match and wound up spearheading an international campaign to resurrect the memory of a former Manchester United captain who saved Barcelona from extinction. Sometimes, apparently, it takes an extraordinary Irishman to tell the story of an extraordinary Irishman.
Patrick O'Connell, a footballer with what might be classed as scoundrel tendencies as well as qualities that enabled him to become a heroic manager, had lain in an unmarked London grave for 57 years until Dowd heard about his singular life and decided to rally, with almost Geldofian zeal, the football world into action. The story of how he and a trio of other not-so-average football fans did that, and of O'Connell's exploits during some of the bloodiest episodes of 20th century Europe, are the subject of Don Patricio, a documentary by the Danish director Michael Andersen that will be shown for the first time next Monday in Dublin before being screened around Britain and Spain (also available here).
The Guardian covered O'Connell four years ago as part of our Forgotten Stories series and mentioned that Dowd was raising funds for a headstone for the former manager's grave in St Mary's Catholic cemetery in north-west London. That was news to Andersen, whose previous films have dealt with conflicts in the former Soviet Union. "I'm a lifelong football fan and very interested in history and when I read about O'Connell I thought 'this can't be true, I've never heard of this guy'," Andersen says. "So I got in touch with Fergus to check it out. I had no idea he would talk me into investing years of my life and all my children's inheritance in making a film about O'Connell and the campaign to get him remembered."
Some people just make things happen. Dowd was first moved to raise awareness of O'Connell when trying to raise funds for Scott Bell, a Blyth Spartans striker who developed motor neurone disease (which eventually took his life in 2013). "I used to enjoy going to England to watch matches and when the Premier League got too expensive I started going to lower league games," Dowd says.
"From watching Spartans I got to know Scott – you can chat with players at the bar after these games – and when I heard about his illness, I wanted to help fund his treatment. I remembered my dad telling me about a Dubliner who had captained Manchester United, managed Barcelona and made Real Betis champions. So I tracked down his grandson, Mike O'Connell, and asked him to give a talk at Blyth. Nine hundred people came to the Spartans clubhouse and you could have heard a pin drop. The more details I heard, the more I realised how remarkable Patrick was. Given his achievements I thought it was shameful he lay in an unmarked grave and his story practically buried with him."
Dowd and three friends – Alan McLean from Dumbarton, Simon Needham from Leeds and Maureen O'Sullivan from Dublin – resolved to get a headstone for O'Connell. They contacted illustrious footballers to ask for signed jerseys to auction. Johan Cruyff, Paolo Maldini and many more donated. "I'd explain that Patrick was a legend who deserved similar status to them and when they heard about him they agreed," says Dowd.
Martin O'Neill was especially captivated. "I thought I might only get a couple of minutes to say my piece but he was fascinated and asked to photocopy my notes," Dowd says.
Roy Keane was similarly gripped and kept in touch throughout the film-making, during which new details of O'Connell's life were uncovered. "When I told [Keane] we think O'Connell was gun-running for Irish rebels while captain of Manchester United he almost keeled over," Dowd says. "And when I talked about when O'Connell was Barcelona manager and had to travel incognito on night trains to avoid Franco's troops I remember him saying 'And I thought Saipan was bad!'"
O'Connell's tale has driven Dowd and his comrades around the world, including to Mexico, where O'Connell took Barcelona in 1937 to raise the money that prevented the club from going out of existence. "It's been surreal," Dowd says. "One day I was heading to work in Dublin and got a text saying: 'Keep going, you're doing a great job'. It was from Luís Figo. I don't think he was talking about my IT skills." And then there was the bust parade in Seville. With money left over after buying the headstone Dowd commissioned the sculptor Joe Moran to make a bust of O'Connell and present it to Real Betis, whom O'Connell led to their only Spanish title in 1935.
The club arranged for the bust to be delivered in front of 30,000 people before a match – and suggested carrying it around the streets of Seville first. "So there we were walking around with this big bronze bust and people rushing over to kiss it," Dowd says. He has since presented Barcelona's president with a portrait of O'Connell by Tony Denton, a Mancunian who had taken up painting only six months previously after being advised it might help curb depression. The painting hangs in Barcelona's boardroom.
From September the Irish Football Association will tell O'Connell's story in schools in Northern Ireland in the hope pupils will be inspired by his achievements and the role of fans in recalling them.
"I've interviewed political activists who've been tortured and I've always come away wondering 'how do they keep going?'" Andersen says. "In a funny way, and on a different scale, Fergus reminds me of them. He has stood to gain nothing from this campaign – in fact, he's spent years of his own time and thousands of pounds – but he has achieved so much."
Dowd is especially pleased by one achievement. "Given the incredible support we have had and the fact I've made lifelong friends from all over the world from this campaign, it's shown football still has soul."
Since you're here …
… we have a small favour to ask. More people are reading the Guardian than ever but advertising revenues across the media are falling fast. And unlike many news organisations, we haven't put up a paywall – we want to keep our journalism as open as we can. So you can see why we need to ask for your help. The Guardian's independent, investigative journalism takes a lot of time, money and hard work to produce. But we do it because we believe our perspective matters – because it might well be your perspective, too.
I appreciate there not being a paywall: it is more democratic for the media to be available for all and not a commodity to be purchased by a few. I'm happy to make a contribution so others with less means still have access to information. Thomasine, Sweden
If everyone who reads our reporting, who likes it, helps fund it, our future would be much more secure. For as little as £1, you can support the Guardian – and it only takes a minute. Thank you.
ČanUpròóvUrnotabot?